Today we're focusing in on your early readers – kids in grades 1 and 2 who are just starting to discover the wonderful world of literature for themselves. Our selection is mixed, with chapter books of varying reading levels and a story book. We hope you enjoy!
# 1 The Junie B. Jones Series by Barbara Park
Her name is Junie B. Jones. The B stands for Beatrice, but she doesn't like Beatrice. So it's B, and that's all. She is a sassy, opinionated young girl with ideas of her own – and she isn't afraid to share them! Follow Junie B. as she gets into all sorts of trouble, and finds her way out again. Full of humour and lessons in morals and behaviour, Junie B. is sure to keep your young reader engaged and asking for the next installment!
#2 The Stink Series by Megan McDonald
Stink Moody is smart and thinks knowledge is awesome. In every book, readers see him asking questions, investigating and discovering new things about the world around him. Each installment contains valuable lessons, both fact and life-based, with a healthy dose of light humour.
#3 The Judy Moody Series by Megan McDonald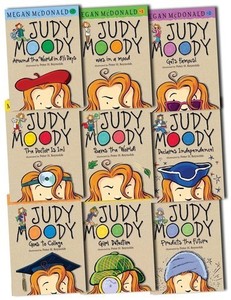 Judy Moody is Stink's older sister. She, too, is curious and precocious as she seeks to learn more about – well – everything! Judy is bubbly and entertaining – and so are the books that she narrates, as they introduce kids to facts about everything from algebra to pirate lore!
#4 The Feelings Book by Todd Parr
It is around age 6 that kids start to become more aware of their changing emotions – and it is up to us to teach them how to identify and work through their feelings. The Feelings Book does exactly this. By helping kids to identify their emotions and embrace the fact that they are sometimes nonsensical, Todd Parr encourages youngsters to discuss their feelings and share openly about them. Illustrated in Parr's signature child-like style featuring bright colours and silly scenes, this book is sure to be a hit with your kindergartener or first grader!
#5 The Who/What Was Series by Janet Pascal/Roberta Edwards
A fantastic series for kids interested in history, these books delve deep into all sorts of subjects like Jane Goodall and her chimpanzees, Dr. Seuss, Leonardo Da Vinci, The Chicago Fire and The Hindenburg Disaster – all in language that kids can understand and relate too. Nothing too graphic here! Just riveting yet educational reads.
Thank you for joining us on the blog! If you like our content, be sure to follow us on social media! We're on Twitter and Facebook.
Until next time,
– Today's Family